New office at Europalaan 400 Utrecht

|
Sieuwert van Otterloo
|
Other
The main office of ICT Institute is at Europalaan 400 in Utrecht. This office is used for meetings and workshops.
Office location
The office is located in the south of Utrecht, near the A12 highway (exit 17). It is based in a center of four large buildings (Europalaan 100, 200, 300 and 400). These buildings were originally in use by computer firm DEC/Digital. They have recently been renovated and now provide living space and office space for many innovative firms. Just next to the office is Dotslash restaurant, a restaurant and bar. The nearest hotel is Van der Valk Utrecht. Opposite the office is a tram stop (Kanaleneiland Zuid). See ICT Institute in Google Maps.
Directions by car: Put the address Eendrachtlaan 100 in your navigation system. You will arrive at the back of the building and can use the car park entrance for visotors (paid parking but we have free parking coupons).
Directions for public transport: Go to Utrecht central station. At the station, you can take any sneltram (light rail) to Nieuwegein/IJsselstein. Get out at Kanaleneiland Zuid. You can use the walkway to cross the road. Alternatively, go to bus stop C5, and take line 74 or 77. Again, get out at Kanaleneiland Zuid.
Office use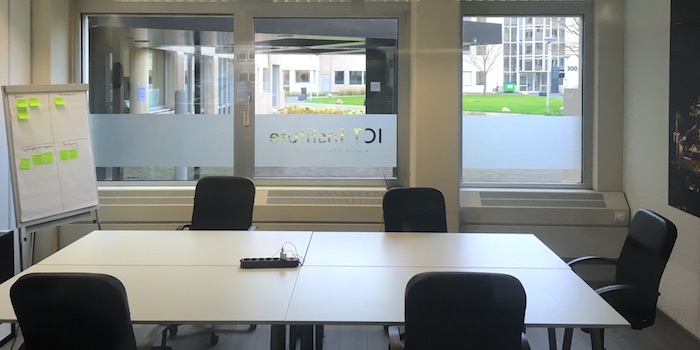 This office is equipped for meetings, workshops and training sessions. It has room for up to 12 participants, for large meetings we use the nearby hotel Van der Valk. The room is equipped with large screen, whiteboard and flipover.
Office art
At the wall of our office, we have placed the largest photo we could find of the Charles Babbage Analytical Engine. This was the first digital computer, designed around 1860 in London by Charles Babbage. It was never completed in his lifetime so for long it was unclear whether the design was working. To resolved these matters, two machines have been built to validate Charles Babbage's ideas. One analytical engine is in the London Science Museum. The other machine is in the Computer History Museum in Mountain View,USA.
Author: Sieuwert van Otterloo
Dr. Sieuwert van Otterloo is a court-certified IT expert with interests in agile, security, software research and IT-contracts.